---
---
Gifts and Greens Market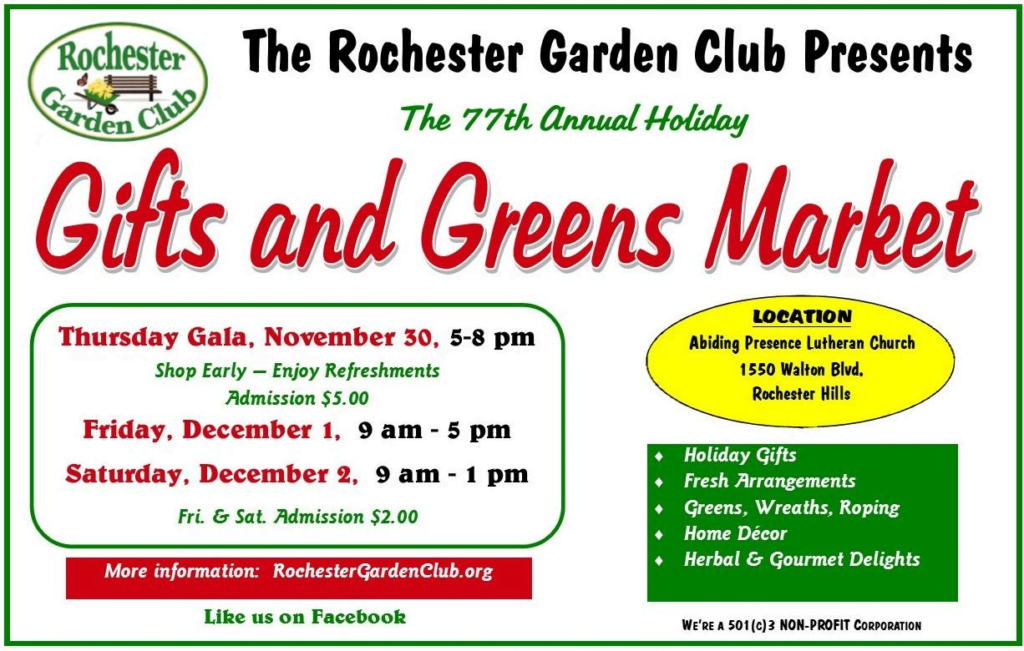 Come join the fun and get a head start on the holidays while supporting the greater Rochester Community. The holiday season kicks off with the 77th annual Gifts and Greens Market held on November 30, December 1 and 2 at the Abiding Presence Lutheran Church at 1550 Walton Blvd., just west of Livernois.
The club creates a beautiful holiday setting where shoppers can find displays of affordable fresh greens, fresh and permanent tabletop arrangements created by the club's talented designers, holiday cookies and gourmet items, herbal concoctions and handmade gifts. Items are priced to sell, and knowledgeable club members will be on hand to help customers select what they need.
This three-day event begins with the Opening Gala on Thursday evening, November 30 between 5:00 pm and 8:00 pm. For a $5.00 entrance fee, shoppers can enjoy a lovely evening, sampling snacks while getting ready for the holidays. Market Days are held on Friday, December 1 from 9:00 am to 5:00 pm, and Saturday, December 2 from 9:00 am to 1:00 pm with a $2.00 entrance fee.
As our regular customers know, shopping at the Gifts & Greens Market means supporting the greater Rochester area. All proceeds are returned to the community in the areas of conservation, education, scholarships, horticulture therapy, and civic improvement. The club supports the Children's Garden at Van Hoosen Farm, college scholarships, summer camp scholarships in partnership with 4-H, annual flower plantings at parks and public spaces, Seven Ponds Nature Center, The Wildflower Association of Michigan, Clinton River Watershed Council, and many other causes. The Rochester Garden Club, a branch of the Woman's National Farm and Garden Association, has received civic recognition over the years for its contributions to the quality of life in our community. New members are welcome.
Rochester Garden Walk
The 23rd annual Rochester Garden Walk was a big success and we wish to thank everyone involved. We appreciate the homeowners who opened up their beautiful gardens, the staff of the Rochester Hills Museum at Van Hoosen Farm, and all the club members who worked so hard to make the day run well. Of course, we appreciate all the people who turned out by the hundreds to support our organization and enjoy the day. The funds raised will go back to the Rochester Community. Well done, everyone!
---
Van Hoosen Farm Summer Programs
Check back next spring to learn about our exciting and educational summer programs at Van Hoosen Farm. Don't forget that the Childrens' Garden at the farm is open to visitors all year long.