Like us on Facebook — Rochester Garden Club
Recent Activities:
We planted seed gardens with all of the Pre-Kindergarteners in the Rochester Schools.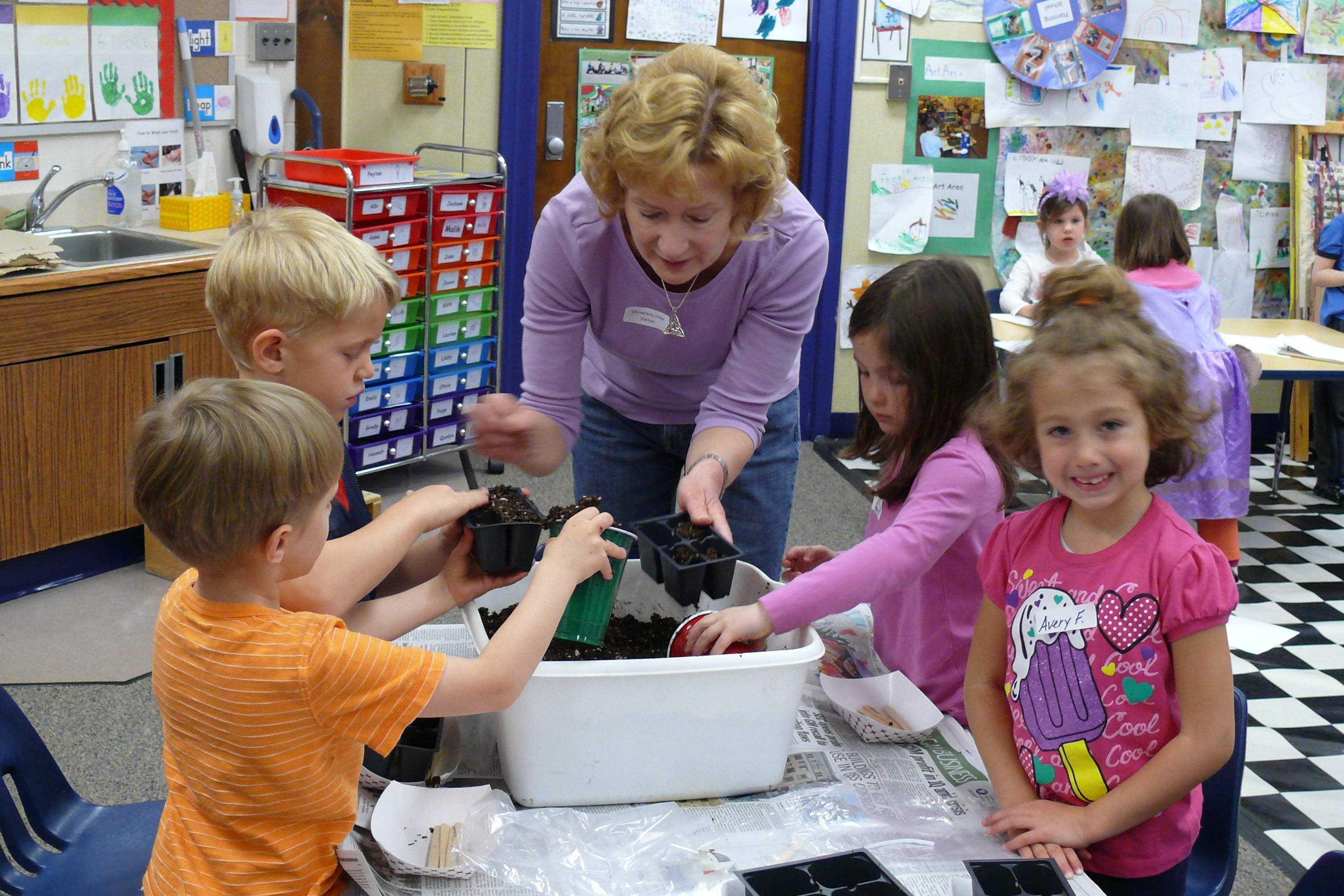 New Habitat Installed in the Children's Garden
On March 20, Mary and Doug Golla installed the new Bee and Insect Habitat at the Van Hoosen Farm Children's Garden.  Inspired by Mary, a Rochester Garden Club member, the habitat was designed and built by Doug.  The structure contains materials that will hopefully attract beneficial insects, pollinators and solitary bees (the kind that rarely sting!) to the garden.  The oval habitat in the top section of the structure is provided for mason bees — a peaceful species thought to be a more productive pollinator than the honeybee.  The new addition will be an interesting and educational tool for both children and adults to learn more about the valuable residents that assist the growth and development of plants in the garden.
Funds Donated to Local Organizations
West and Reuther Middle School science departments were each awarded a $1,000 check for equipment to conduct scientific tests primarily relating to water quality in the Clinton River Watershed. Students will now have water monitoring kits, waders, aquatic bug collecting nets, thermometers, dissolved oxygen test kits, and other equipment to help perform the various chemical and physical tests.
Seven Ponds Nature Center in Dryden will use their $500 donation to build a new Touch Table for pre-school age children using wood from the type of native trees that are found at the Nature Center.  This gift will also allow for the purchase of educational materials for use on the table.
The Rochester Hills Museum at Van Hoosen Farm was awarded $1,500 for multiple purchases: a new permanent Christmas tree and ornaments to replace the tree that has been part of their holiday decorations for over 20 years; a cart to be used to transport equipment and tools to the Children's Garden; and the purchase of materials used for the many educational programs held in the garden each summer.
The Food Pantry Garden at the First Congregational Church in Rochester was presented with $100 toward the purchase of seeds, plants and other items used in the garden where vegetables are grown each year for the Food Pantry.