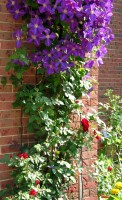 The Rocheser Garden Club meets on the second Tuesday of the month from September through June (except December) at the Rochester Community House, 816 Ludlow, Rochester, MI 48307. "Meet and greet" social time starts at 9:30 a.m. Meetings begin at 10:00 a.m. and include a coffee service,  business meeting, and educational program of topical interest.
The club also has one summer meeting held in August.
Prospective Members are welcome at the meetings. Please contact us if you are interested in attending one of our meetings.
See our Calendar for meeting dates, time and location.