Nursery Crawl – May 19, 2017
Thirty members carpooled to three nurseries to find the perfect plants for their gardens.  It was a very successful trip for everyone!  Lunch followed at the Celtic Knot in Lakeville.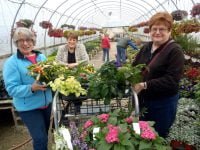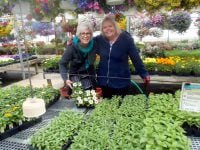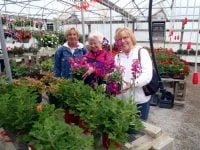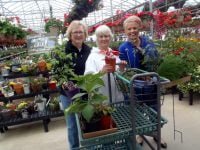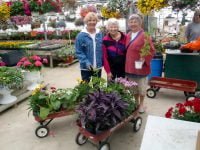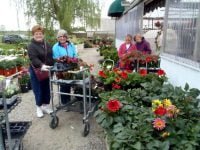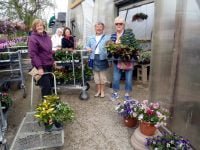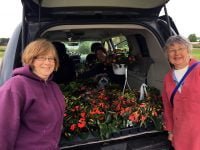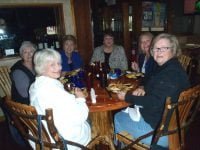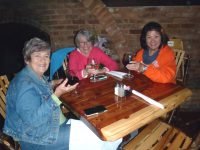 Annual Meeting and May Luncheon – May 9, 2017
This year's venue was Boulder Pointe Golf Club in Oxford.  It is our annual installation of officers and a celebration of our year.
Officers were installed (L to R: Cathy Ford, President; Robin McGrath, Vice President; Mary Golla, Recording Secretary; Carol Steurer, Corresponding Secretary; Joan Rolwing, Treasurer; Sara Malstrom, Assistant Treasurer) and outgoing president Marilee Shortreed passed the gavel to new president Cathy Ford.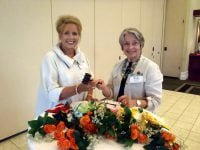 Amy Headbloom was honored as a Distinguished Member for her outstanding 13 years as Treasurer and her active involvement with the Horticultural Therapy Committee and other activities.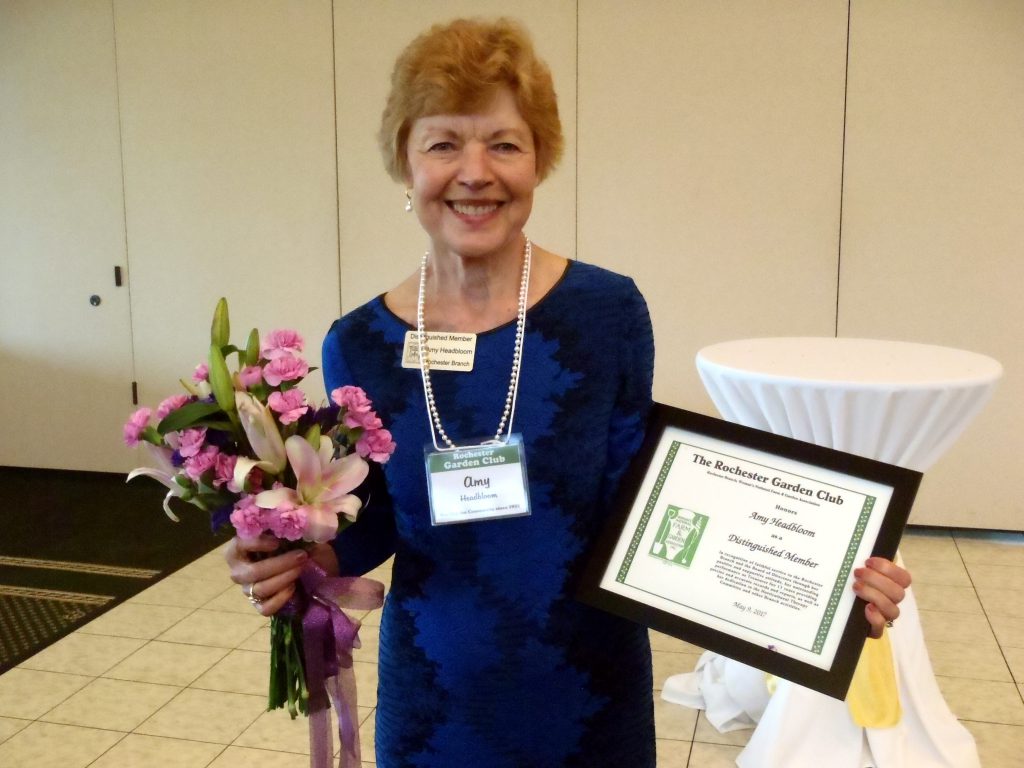 Friends are a big part of us and the May Luncheon is a chance to catch up with each other.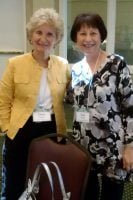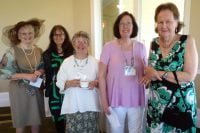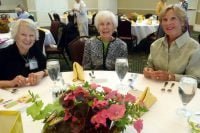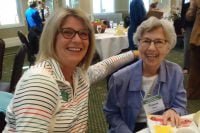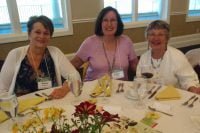 The 9th Annual Golf Outing – August 15, 2016
The winners of this year's scramble at Stony Creek Golf Course want to be sure we know they are number 1.  Congratulations, Ladies!!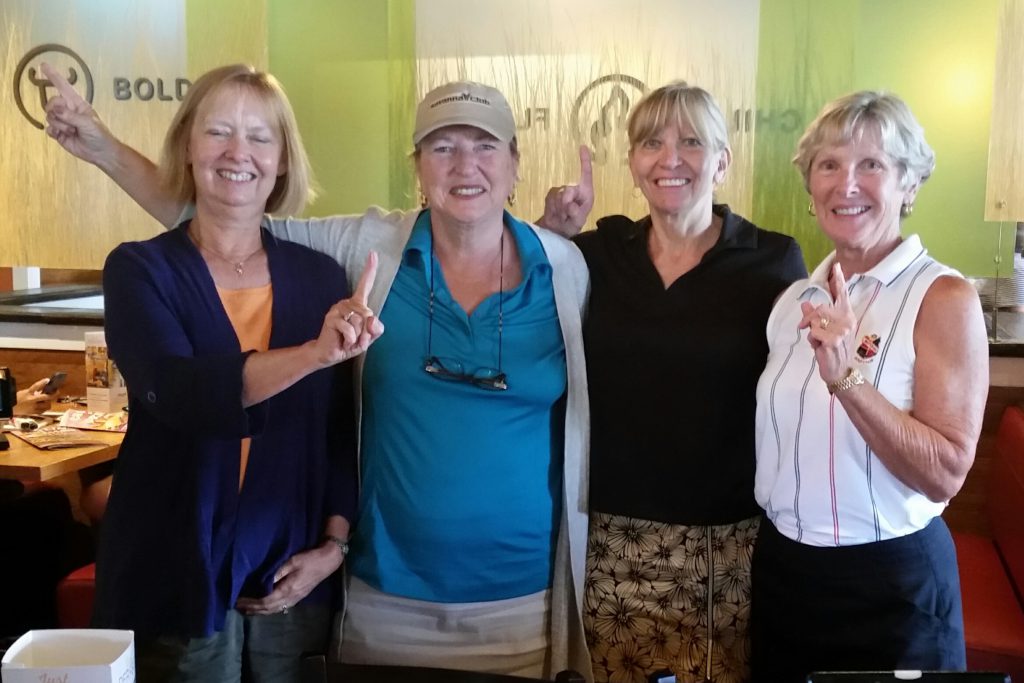 The Summer Meeting – August 9, 2016

This annual event is our special day to Learn, Laugh and Lunch!
Members and guests registered and then enjoyed a continental breakfast.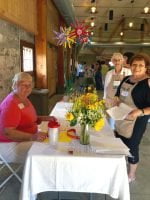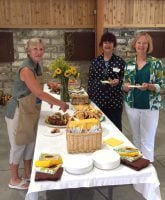 Everyone had some time to place their tickets with the hope of winning one of the great raffle prizes before Pat McKay, Van Hoosen Farm Museum Director, welcomed us.
The Learning portion of this event was outstanding this year.  Jane Giblin and Pat Hambleton explored ancient grains including recipes and tasting.
Master Gardeners, Mary Golla and Joan Rolwing presented gardening information that included a test for all of us — Are you Smarter than a Master Gardener?  What a fun way to learn!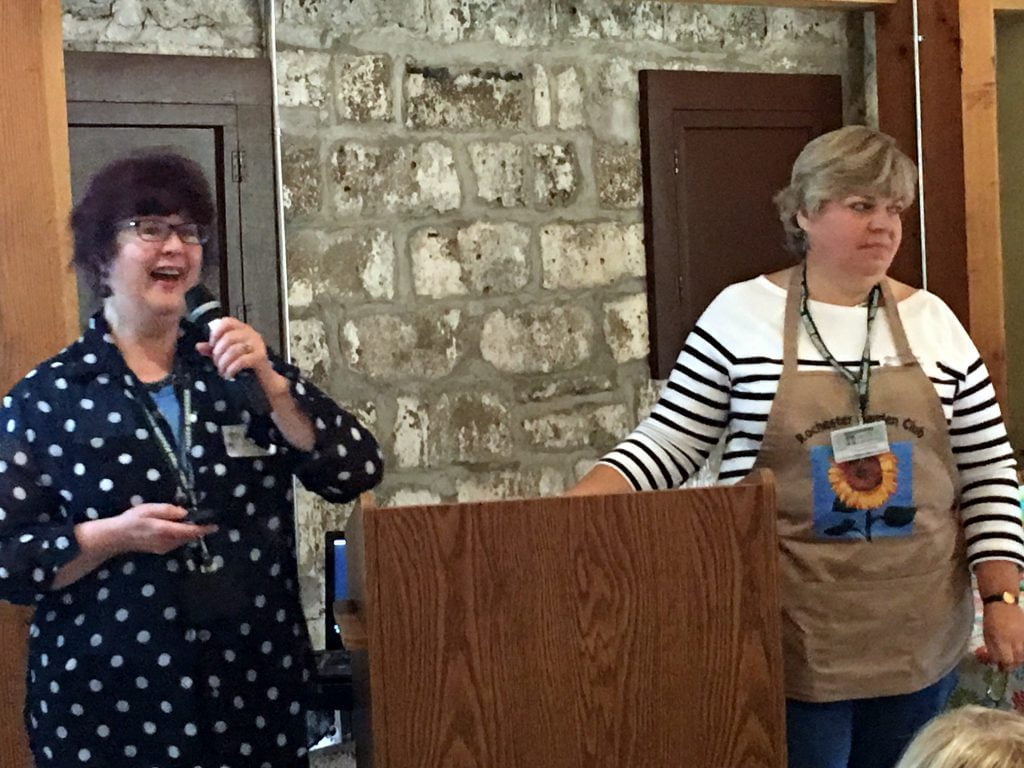 Following a delicious antipasto salad lunch, Colleen Dykstra (and Robin McGrath, not pictured) gave us lots of practical, helpful yard tips — even a good use for an old purse!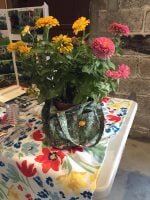 Member Garden Walk – June 23, 2016
First visit was to Jane's to her natural garden displaying her composting knowledge with the enhanced size of all the plants.  Her pond is a lovely spot to enjoy watching the many fish.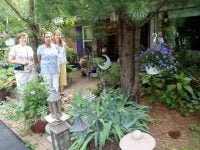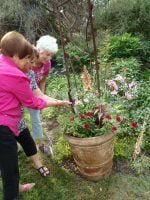 We next visited Mary with an entrance to her backyard through a wonderful gate built by her husband.  We enjoyed some lemonade under her gazebo.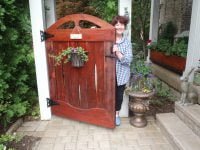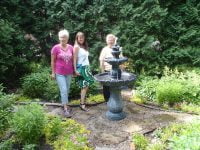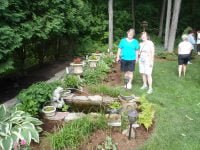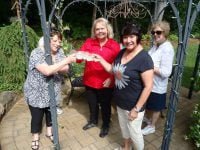 The final stop before lunch was at Helga's where the setting is on a lovely pond.  Her husband Patrick also gave us a tour of his amazing vegetable and fruit garden.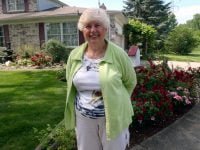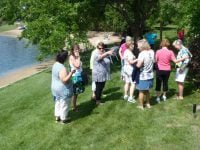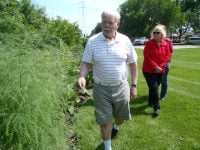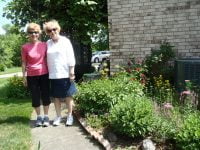 True to ourselves as always, we did go to lunch….but forgot to take any photos!
Daffodil Day

at Belle Isle – April 20, 2016
This annual event sponsored by the Michigan Division and attended by a number of our members was perfectly timed this year to view the daffodils in full bloom. The Conservatory was also a bright spot in the day!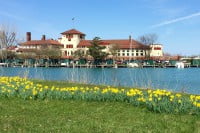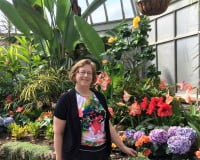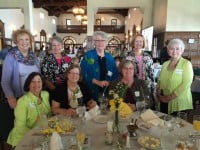 A Trip to Seven Ponds Nature Center – March, 2016
Members traveled to Seven Ponds in Dryden to enjoy naturalist Lois Rheaume's presentation about mammals and her guided walk through the woods. Those who chose to stay inside had time to appreciate the many displays, shop in the gift shop, and watch the birds dine at their many feeders outside a bay of windows. What a wonderful facility!!