Thank you, everyone, who purchased items from our virtual Gifts and Greens Market! We all prefer the chance to view, touch and feel the items for sale so your faith in purchasing with only a photo to view is very much appreciated.
Special thanks to the Rochester Fire Department for their hospitality by providing the perfect spot for our curbside pickup.
This is a pictorial review of our pickup:
Organizing the wreaths, roping and swags in the trailer in the parking lot.
Organizing the gifts and fresh arrangements in a bay inside the fire station.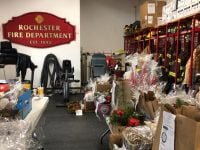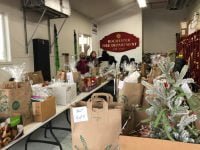 Greeting the customers in their cars and placing their orders in the trunk. (we met many friendly dogs in the rear of the vans or SUV's!)