When:
GALA OPENING – Thurs., December 4, 2014, 6-8 pm Friday, December 5, 2014 — 9 am to 6 pm
Saturday, December 6, 2014 — 9 am to 1 pm
Where:
St. Philip's Episcopal Church
100 Romeo Road, Rochester MI 48307
(at Rochester Road across from Dairy Queen)
Admission:
GALA – $5;  Friday & Saturday – $2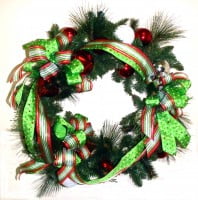 Featuring high quality and affordable fresh greens and custom made holiday items…
All sold at our festive Greens Market!!
All profits from sales at the Greens Market are returned to the community through Projects and Financial Gifts. So purchase your holiday items at the Greens Market and help the Rochester Garden Club benefit the greater community!
Here's a look at some items from last year…..