We've packed away all of our display items from the 2017 Greens Market.
 We will be back for our 72nd year November 29, 30 and December 1, 2018 using our new name, Gifts and Greens Market.  The details will be posted here in the fall.  In the meantime, the listing below will give you an idea of the wide range of items we had for sale this year.
By purchasing your holiday items at the Greens Market you are helping the Rochester Garden Club benefit the greater community!  Learn how our profits are used on our Projects and Financial Gifts pages

The following Fresh Greens were offered:
Wreaths

– noble fir, boxwood and mixed greens in a variety of sizes

Roping

– white pine, cedar and mixed cedar/fir roping sold either by the yard or in full coils

Assorted Fresh Greens

– blue berry juniper, boxwood, cedar varieties, noble fir, white pine and holly varieties sold in mixed bunches or in half pound bags

Door Swags and Candle Rings
The Rochester Branch has a highly talented group of members who design and make many beautiful one-of-a-kind items for sale at the Greens Market including:
 

Fresh Holiday Arrangements

– created by our custom designers from local greens to compliment your holiday home decor


Permanent Holiday and Winter Arrangements

– included are  wreaths, trees, and unique decorations for your home

Hand Crafted Gifts

for All Ages – produced by artistic members who specialize in basketry, jewelry making, sewing and knitting

Unique and Beautifully Packaged Herbal Products, Gourmet Items and Cookies

– prepared for you to use as holiday gifts or your holiday entertaining

Custom Made Bows

– hand tied from your selection of our many beautiful ribbons.  You may also bring your own ribbon and we will make bows to your specifications.
Our Creators were Busy….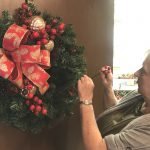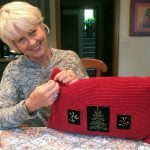 ….Making Items to Sell
.