The Garden Walk is an intimate look at the unique and private gardens in our community. It is co-hosted annually on the

third Thursday of June

by the Rochester Hills Museum at Van Hoosen Farm and the Rochester Garden Club.
Mark your Calendar

Thursday, June 16, 2016
10:00 am – 6:00 pm
Ticket information
In Advance – $12;   
Day of the Garden Walk – $16
 

Purchase Tickets
May 27 until noon on June 15:
Website: rochesterhills.org/musprograms
Bordine's Nursery & Lytle Pharmacy (cash or check only)
Pick up advance purchased tickets at Van Hoosen Farm on June 16
June 10 to June 16
Rochester Hills Museum at Van Hoosen Farm Dairy Barn, 1005 Van Hoosen Rd.
1 – 4 pm, Monday – Saturday;  all day June 16
Museum Phone: 248-656-4663
Morning Program
The 2016 program at 

11:30 am

in the Calf Barn will feature our members Ethel Stepnitz and Pat Hambleton who will entertain the attendees with Growing and Cooking with Herbs.  This duo will give you pointers on how to make your herb garden spectacular as well as create delicious herbal foods from these garden herbs. Don't miss this fun and educational opportunity!  Tasting will be part of the day, too!
Garden Art and Plants



The Open Aire Garden Market features vendors on the grounds of the Rochester Hills Museum from 10:00 a.m. to 4:00 p.m.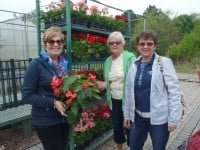 New this year is a Hot Dog Cart