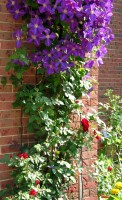 The Garden Walk is an intimate look at the unique and private gardens in our community. It is co-hosted annually on the third Thursday of June by the Rochester Hills Museum at Van Hoosen Farm and the Rochester Garden Club.
Garden Walk                                            
Thursday, June 19, 2014     10:00 am – 6:00 pm
Ticket information
Tour tickets can be purchased at the Rochester Hills Museum Wed-Sat 1:00-4:00 p.m. in advance and on the day of the Garden Tour   - In advance – $10 for Museum members, $12 for non-members, $14 the day of the Tour
Garden Art
The Open Aire Garden Market will feature vendors on the grounds of the Rochester Hills Museum from 10:00 a.m. to 4:00 p.m.
Rochester Hills Museum
1005 Van Hoosen Road
(enter Dairy Barn)
Museum Phone: (248) 656.4663